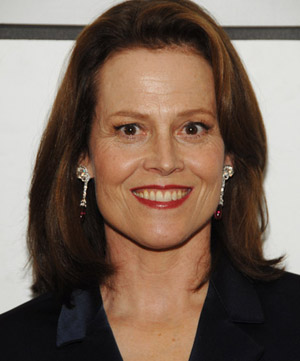 Susan Alexandra Weaver (nota come Sigourney), nata a  New York l'8 ottobre del 1949
Attrice
Somerset (1970) Serie TV
Io e Annie (Annie Hall) (1977)
The Best of Families (1977) Miniserie TV
Madman (1978)
Alien (Alien) (1979)
3 by Cheever: The Sorrows of Gin (1979) Film TV
3 by Cheever: O Youth and Beauty! (1979) Film TV
Uno scomodo testimone (Eyewitness) (1981)
Un anno vissuto pericolosamente (The Year of Living Dangerously) (1982)
L'affare del secolo (Deal of the Century) (1983)
Ghostbusters – Acchiappafantasmi (Ghost Busters) (1984)
Walls of Glass (1985)
Alta, bella e pericolosa (Une femme ou deux) (1985)
Aliens – Scontro finale (Aliens) (1986)
Mistery (Half Moon Street) (1986)
Saturday Night Live (Saturday Night Live), nell'episodio "Episode #12.1" (1986)
Gorilla nella nebbia (Gorillas in the Mist: The Story of Dian Fossey) (1988)
Una donna in carriera (Working Girl) (1988)
Ghostbusters 2 (Ghostbusters II) (1989)
Alien³ (Alien³) (1992)
1492: la conquista del paradiso (1492: Conquest of Paradise) (1992)
Dave – Presidente per un giorno (Dave) (1993)
La morte e la fanciulla (Death and the Maiden) (1994)
Jeffrey (Jeffrey) (1995)
Copycat – Omicidi in serie (Copycat) (1995)
Tempesta di ghiaccio (The Ice Storm) (1997)
Biancaneve nella foresta nera (Snow White: A Tale of Terror) (1997)
Alien: la clonazione (Alien: Resurrection) (1997)
La mappa del mondo (A Map of the World) (1999)
Galaxy Quest (Galaxy Quest) (1999)
Una spia per caso (Company Man) (2000)
Heartbreakers – Vizio di famiglia (Heartbreakers) (2001)
Tadpole – Un giovane seduttore a New York (Tadpole) (2002)
Futurama (2002) – voce 1 episodio
The Guys (The Guys) (2002)
Holes – Buchi nel deserto (Holes) (2003)
Imaginary Heroes (Imaginary Heroes) (2004)
The Village (The Village) (2004)
Snow Cake (Snow Cake) (2006)
The TV Set (2006)
Infamous – Una pessima reputazione (Infamous) (2006)
Cenerentola e gli 007 nani (Happily N'Ever After) (2006) – voce
The Girl in the Park (2007)
Prospettive di un delitto (Vantage Point) (2008)
Be Kind Rewind – Gli acchiappafilm (Be Kind Rewind) (2008)
Baby Mama (2008)
WALL•E (2008) – voce
Le avventure del topino Despereaux (The Tale of Despereaux) (2008) – voce narrante
Avatar (2009)
Avatar (videogame) (voce) (2009)
Prayers for Bobby (2009) (film tv)
Crazy on the outside (2009)
Paul (2009)
You Again (2010)
Cedar Rapids (2010)
Night Train (2010) (pre-produzione)
G-String Mother (2010) (pre-produzione)
Doppiatrici italiane
Ada Maria Serra Zanetti in: Alien, Aliens – Scontro finale, Alien³, Alien: la clonazione, Una donna in carriera, 1492: la conquista del paradiso, Heartbreakers – Vizio di famiglia, Tadpole – Un giovane seduttore a New York, Holes – Buchi nel deserto, The Village, Cenerentola e gli 007 nani, Avatar .
Paila Pavese in: Gorilla nella nebbia, Dave – Presidente per un giorno, Copycat – Omicidi in serie, La mappa del mondo.
Maria Pia Di Meo in: Un anno vissuto pericolosamente, Mistery.
Micaela Esdra in: Biancaneve nella foresta nera, Infamous – Una pessima reputazione.
Anna Rita Pasanisi in: Galaxy Quest, The Guys.
Barbara Castracane in: La morte e la fanciulla, Le avventure del topino Despereaux.
Livia Giampalmo in: Ghostbusters – Acchiappafantasmi.
Melina Martello in: Ghostbusters 2.
Emanuela Rossi in: Imaginary Heroes.
Simona Izzo in: Tempesta di ghiaccio.
Cristiana Lionello in: Prospettive di un delitto.
Alessandra Cassioli in: WALL•E.
Cristina Boraschi in: Futurama.